Website and Mobile App Integration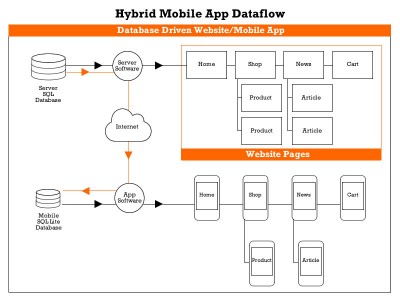 by Andy Carroll, 10 Apr 2018
Incorporating mobile facilities into your systems can take a number of directions. From making your site display correctly on phones and tablets using "responsive design" techniques to building native mobile apps on Apple iOS, Windows or Android phones. There are also some alternatives in between which aim to make use of the benefits of both.
Creating websites that display on phones and tablets mean your visitors can easily access your information whilst online. You can avoid having to invest in developing apps on multiple devices and also keep maintenance time down by providing only one set of data inside your content management system.
Native apps in comparison can make use of phone specific features and benefits such as the ability to run offline when no internet connection is available. Native phone apps also introduce opportunities to capture voice, camera and geo tracking data and manipulate contacts and other smart phone specific features.
I covered the mechanism of using website data within your native apps in Android App Development and this can be seen illustrated in the diagram here. Having your mobile app read and store the web site data when connected means your app can provide this information even when offline. The other remaining issue is related to the need to develop multiple software versions to run on Apple iPhone, Windows and Android. Each phone has its own programming language and set of features which means app development accross all devices can become expensive. Depending on your requirements one solution would be to utilise PhoneGap to develop a unified application with HTML5 at its core. PhoneGap provides a subset of features common to all platforms through a single language HTML5 and Javascript which brings mobile development closer to a web developers standard toolbox. PhoneGap still requires each platform be compiled into its native format using tools such as eclipse and Android SDK and iOS but the core mobile app remains the same with perhaps just minor adjustments.