Open Cart with PayPoint.net error - Digest do not match, possible fraud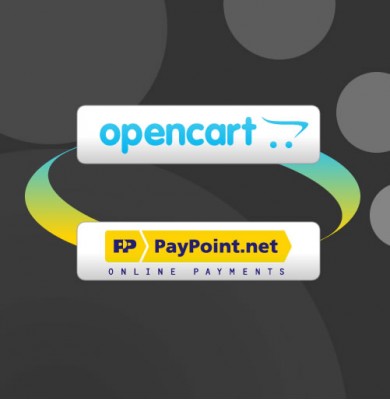 by Andy Carroll, 2 Feb 2011
After creating an Open Cart installation for a customer using PayPoint.net payment module, I discovered that payments were not being accepted and instead received an error "Digest do not match, possible fraud". My subsequent resolution is included here in case it proves useful to others.
PayPoint.Net has a shared "Remote Password" field and a shared "Digest Key" field to secure the data between the PayPoint website and the merchants Open Cart module. These fields should be assigned in both the PayPoint.net console and the PayPoint.net Open Cart payment module.
The current module does not utilize these keys which have now become statutory. I have duplicated the module adding the two new parameters which should be assigned and matched both in the Open Cart administration console and the PayPoint.net console. The module then creates an appropriate hidden security hash field when sending a payment request and checks the subsequent hash response. Any failed responses or spoof attempts are logged in Open Cart's log screen for investigation.
The zip archive OpenCart_v1.4.9.4_PayPoint_Digested_1.0.zip contains a copy of the updated payment module. It has installed and tested on Open Cart 1.4.9.4 but may also work on other versions.
The zip archive OpenCart_v1.4.7_PayPoint_Digested_1.0.zip contains the original payment module. It is installed on Open Cart 1.4.7 currently in production but may also work on earlier Open Cart versions.
To install you will need to navigate through each sub folder and move each file into the matching destination on your installation of Open Cart. Once all files are copied over you can install and apply your settings in Open Cart's payment modules. Let me know if you need help or have suggestions for improvements.
Copyright (C) 2011 by Goldfish Interactive Ltd

Permission is hereby granted, free of charge, to any person obtaining a copy
of this software and associated documentation files (the "Software"), to deal
in the Software without restriction, including without limitation the rights
to use, copy, modify, merge, publish, distribute, sublicense, and/or sell
copies of the Software, and to permit persons to whom the Software is
furnished to do so, subject to the following conditions:

The above copyright notice and this permission notice shall be included in
all copies or substantial portions of the Software.

THE SOFTWARE IS PROVIDED "AS IS", WITHOUT WARRANTY OF ANY KIND, EXPRESS OR
IMPLIED, INCLUDING BUT NOT LIMITED TO THE WARRANTIES OF MERCHANTABILITY,
FITNESS FOR A PARTICULAR PURPOSE AND NONINFRINGEMENT. IN NO EVENT SHALL THE
AUTHORS OR COPYRIGHT HOLDERS BE LIABLE FOR ANY CLAIM, DAMAGES OR OTHER
LIABILITY, WHETHER IN AN ACTION OF CONTRACT, TORT OR OTHERWISE, ARISING FROM,
OUT OF OR IN CONNECTION WITH THE SOFTWARE OR THE USE OR OTHER DEALINGS IN
THE SOFTWARE.