Case Studies: Bennett Mirror Technologies
Technical Help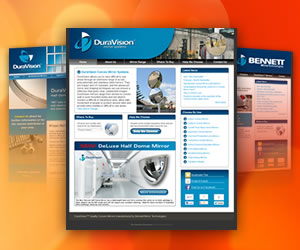 Bennett Mirror manufacture DuraVision, the superior brand of convex mirrors and domes. I have worked closely with the team at Bennett Mirror Technologies for many years. I work with their designer to develop and update their own websites and support and promote their distributors e-commerce systems. I also work with their marketing department developing strategies and providing analysis to improve sales.
Bennett Mirror Technologies
The main Bennett Mirror site runs on an N2CMS ASP.NET system with content and functionality shared accros the .co.nz, .com domain and the separate DuraVision website. Visitors are directed to international distributors via the "Where to Buy" section and the various mirrors are listed product details.
Mirror Distributors
I develop and support distributor's e-commerce sites selling Convex Mirrors in the United States, Australia, New Zealand and United Kingdom. Geographic detection is used to highlight alternative distributors if visitors arrive from overseas to the wrong website location. This ensures visitors arrive at the most appropriate location and is part of an international strategy to encourage distributor partnerships. Having related sites working together in this way boosts search performance and helps visitors find the most appropriate place to buy.
Gordon's Comments: "We have the bright creative ideas but when we need the technical skills, Andy is just a phone call away. He puts our plans into action and helps the production process run smoothly."